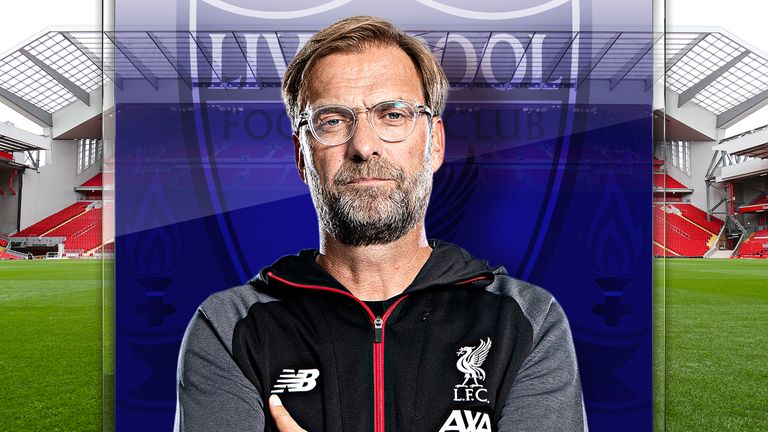 Liverpool manager Jurgen Klopp spoke with Geoff Shreeves on Thursday ahead of this weekend`s mouthwatering Super Sunday clash with Manchester City.
In a wide-ranging interview with Sky Sports, Klopp looks ahead to what he expects from the game at Anfield, provides his latest take on the debate surrounding Sadio Mane and reflects on the club`s participation in the Club World Cup.
We live streamed the interview on the Sky Sports Football YouTube channel and you can catch up on what was said below.
Klopp on significance of Sunday`s game
I don`t know. We are at matchday 12 so obviously there are some games to come. We know about the City situation last year where we only lost one game and that was decisive in the end.
That`s maybe how people see it, but you have to play all the games. There is so much to come, and the most intense period of the year in November, December and January is still coming so we have to be ready for all these games.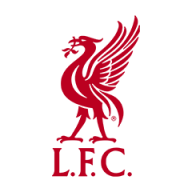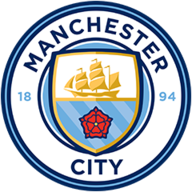 Liverpool vs Man City
November 10, 2019, 4:00pm
Live on
At the moment we are focused on preparing for this game, but we don`t think too much about what influence it might have on the rest of the season.
This season is different to last season, and we don`t know how it will go. We pushed each other on a really high level.
The previous season, there was the real pressure of the 100-point season and I could not have more respect for them that they had 98 points the year after - but for sure we were a reason for that as we pushed them really hard.
Is this a `must not lose` game?
Maybe there are people who are smarter than I am and see it like this, but I don`t. For me, it`s 100 per cent a `want to win game` - with all I have. I`ve never understood `must-win` games because that doesn`t change the chances.
For us, as a team to prepare a game like this, you have to do the right thing again and again: being brave, playing football, defending for your lives.
All the stuff around the game doesn`t really affect us. We want to win, and we`ll try everything to make that happen - which is difficult enough. The season will not stop after this, but it`s a big one, we know that.
The whole world will be watching it, 100 per cent. Everyone I know will. I`m really looking forward to it, but the discussions around, I`m not part of.
What type of game does Klopp expect?
In the last couple of years, we both gave a lot of respect for each other. City`s performance at Liverpool last season was probably the biggest show of respect one of my teams ever got. That`s how it is.
They played differently to what they usually do - that`s true. But, that`s football. We all have to make a plan for one game, and in this specific case against one of the best sides in the world.
We play at home, and last season we played a game at theirs where we lost by 11 millimetres otherwise the ball was in [John Stones` clearance on the goal line] and it was another draw.
I think that would have been deserved, so there are tight games and that`s how it is when high-quality teams face each other, so I expect another tight game.
Klopp on Pep`s Mane climbdown
I`m in exactly the same situation as him. We constantly get asked questions, and sometimes we say in that second what is on our mind, without thinking of anything else - that we`re in public, that there`s a camera.
He explained it well, saying when he speaks to his kids, it`s like this. It could be a penalty or not, and that`s a discussion they had at home. I`m completely fine with it, and I couldn`t have more respect for Pep Guardiola.
I know him for so long, and for me it`s still a big thing to be his contender. For me, he`s the best manager in the world, and we have the chance to win against his team which is very difficult but possible which is enough for me. From my side, there is nothing but respect.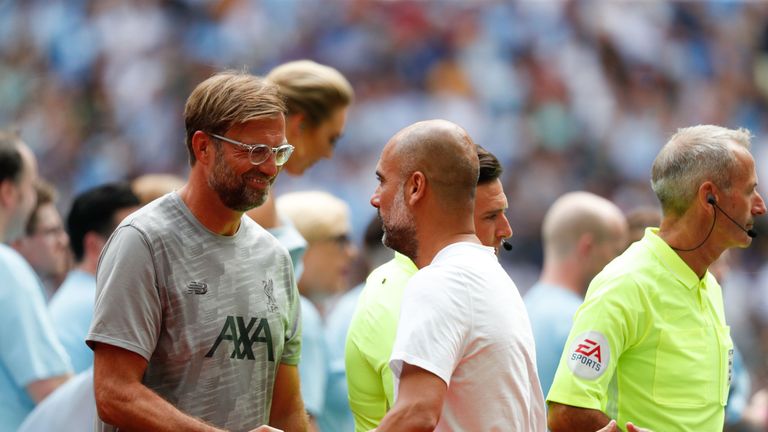 Of course, you can`t leave it completely without a comment, but I`m not interested. There`s enough to write about before the game. It`s not necessary for us to make it bigger by the things we say.
If I could do it again I wouldn`t have said it [the tactical fouls response]. It`s just not necessary, and I know there`s a lot of respect there and the rest will be decided on the pitch.
Would Ederson`s absence change City`s approach?
If he did not play, it would change. Ederson is an important part of their game, 100 per cent. Claudio Bravo can do similar things, but I expect Ederson to play 100 per cent. He`s an ever-present player.
Klopp on Sean Cox`s return to Anfield
It`s great - I hope to be able to see him, to be honest. I`m not sure if it`s going to be possible, but it`s just wonderful. It`s been 18 tough months for sure for the family, and for himself and his friends. Now that he`s coming back, it`s really nice.
I`m sure that our supporters will make it a very special occasion for him, and I will try to see him as I would really like to.
Klopp on the Club World Cup
I`m not sure we prioritise it - it was just about which came first. We had to plan and we had to have a team for the Club World Cup much longer.
The boys wanted to play in it, so hopefully it`s not a once in a lifetime chance but it doesn`t happen too often as you have to win the Champions League.
Then after that, we had to play the Carabao Cup, but we knew we would be part of the Club World Cup in Qatar since May.
We have two games and we cannot do it in a different way. It`s only in England that it`s not that important. For the rest of the world, they look at this competition.
We are Liverpool, we are a worldwide brand, so we have to do what we want and what our supporters want. With the Carabao Cup, we didn`t know if we`d go through because Arsenal was a tough draw.
We played it already with a much-changed and very young team, they did brilliantly, and now we see it as an opportunity for them to play the next round - that`s how it is.
We cannot have a 40-player squad, and it`s always clear that we have to make decisions in advance. Maybe people will criticise our decisions, I don`t know, but I don`t care to be honest.