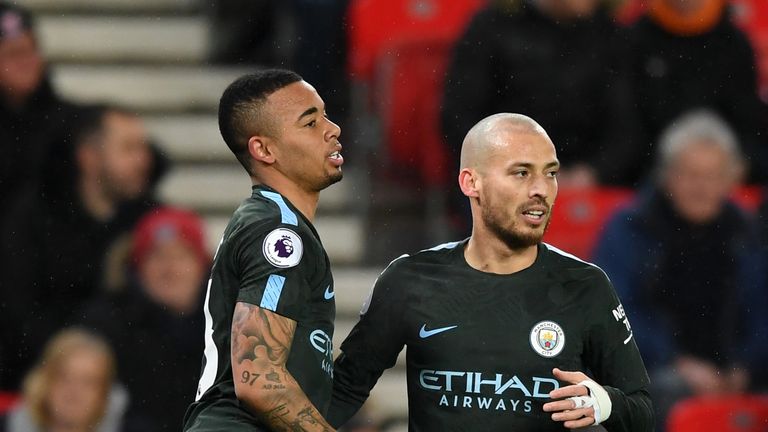 Despite lagging behind in terms of goalscoring prowess, does Gabriel Jesus fit Manchester City`s style of play better than Sergio Aguero? Pete Hall examines the possibility of an even more imposing City unit.
When Jesus burst onto the scene a year ago, it seemed Aguero`s days as City`s attacking figurehead were numbered.
Jesus finished his first half-season in Manchester having been involved in more Premier League goals than anyone else in that period.
However, such form only acted as inspiration for Aguero, who has fired 21 goals to put City on the verge of a third Premier League crown, with Jesus looking on from the sidelines in recent months, having suffered from bad thoughts while recovering from injury.
Aguero`s absence with a knee problem for the trip to Stoke on Monday gave Jesus the opportunity to show Pep Guardiola he is back to top form.
It is a bit of a free hit for Jesus, Sky Sports` Gary Neville said before the Monday Night Football clash at the bet365 Stadium. The pressure is off with City so far ahead, so it is a good time for Guardiola to give Aguero a rest and see what Jesus can do.
Soon enough Jesus had made his mark as City ran out 2-0 winners. The hold up play for City`s 10th-minute opener was exquisite, as he delayed just long enough to feed Raheem Sterling, who squared for David Silva to score.
That second assist is something Aguero is yet to register this season. Aguero is very much a No 9 - an out-and-out striker who thrives in and around the box, on the end of passes, rather than a player who drops deep to instigate moves.
The opener on Monday night was a fine example of the type of goal that Guardiola - one of football`s biggest perfectionists - revels in. One-touch passing, on the counter, in the blink of an eye. It was exhilarating to watch, with Jesus a key protagonist.
Aguero is yet to register a second assist - that key pass before an assist - whereas Jesus has two to his name, having started just 13 league games, compared to Aguero`s 22.
Directly assisting goals is even more crucial, and Jesus exhibited plenty of composure when setting up the game-clincher for Silva at the bet365.
Gabriel could himself shoot, the target was there, but he saw David [Silva] in a better position, Guardiola said after the match. Team players remain Guardiola`s preferred option.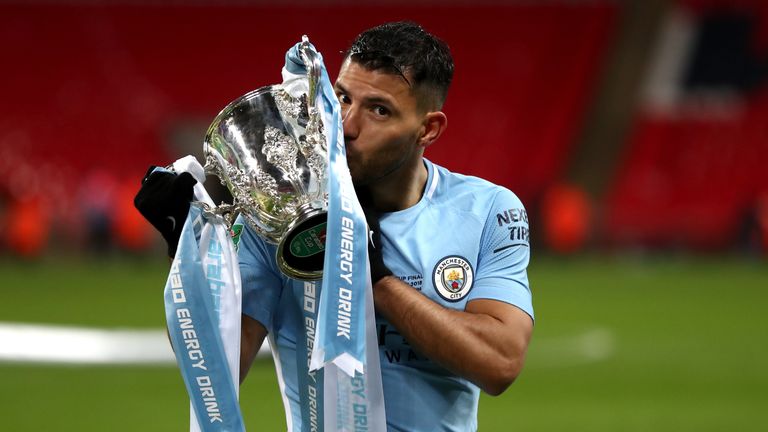 There are goals aplenty throughout the City squad. Jesus himself averages a goal every 0.65 games in the Premier League this season. This does not match to Aguero`s standard, but extrapolate that out over a season, along with this additional creative option of dropping deep to link up play, and a City side with Jesus leading the line could - to the detriment of the competition - become an even more imposing proposition.
He [Jesus] reminds me a little bit of Samuel Eto`o when I had him at Barcelona, Guardiola said in November. He never leaves you alone. He helps us with the first line of pressure up top.
The press is important to Guardiola, and that approach plays a major part in ensuring City keep their opponents on the back foot at all times. He often eludes to such, and could be another reason he might deploy Jesus on a more regular basis.
In truth, both options have proven to be almost unplayable. Aguero remains one of the best marksmen in the world, and it would be difficult to leave a striker of his ilk on the sidelines.
But, Pep being Pep, there is always room for improvement, and those perfect team goals could well be more likely with a Jesus-type link-up forward in the central role. A nice dilemma to have.