Jamie Redknapp and Slaven Bilic believe West Ham should have been awarded a penalty against Chelsea, but admit it was difficult for the referee.
Marko Arnautovic went down in the area after a tackle from N`Golo Kante in the 86th minute, although there was much discussion on whether the Chelsea midfielder got a touch of the ball first.
After seeing a number of replays, both Super Sunday pundits think the Hammers should have been given the spot-kick, although it took them a while to come to the conclusion.
Redknapp said: I think what happens to the referee, he sees the ball deviate to the left, so he thinks that Kante surely has got a touch and if you`re not sure, I guess you can`t give it.
It`s taken us six or seven times to see it so it shows how difficult it is for the referees, but David Moyes will be so disappointed. If you get those, it can be a season changer.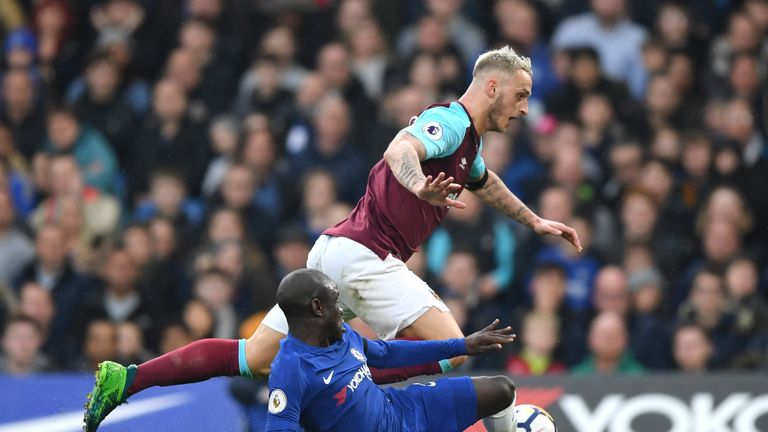 Former West Ham manager Bilic agreed with Redknapp, adding: Even we needed to have a look 10 times, we had to slow it down to a minimum pace and we are still not sure. For me, it is a penalty.
VAR has had its controversial moments in cup competitions this season, and while Redknapp is not a fan of the technology, he did concede it would have helped at Stamford Bridge.
Today, David Moyes would love VAR, Antonio Conte wouldn`t because they would have taken it back and given a penalty against you, he said.
I like matter of fact - is it over the line or not - over a matter of a opinion. This one is quite straight forward I think, as hard as it is for the referee, but there are others that are so contentious and it`s hard to pick the bones out of them. I`m not sure it`s going to add to our game, but it`s not up to me.
Hit play on the video above to see the incident and analysis in full.