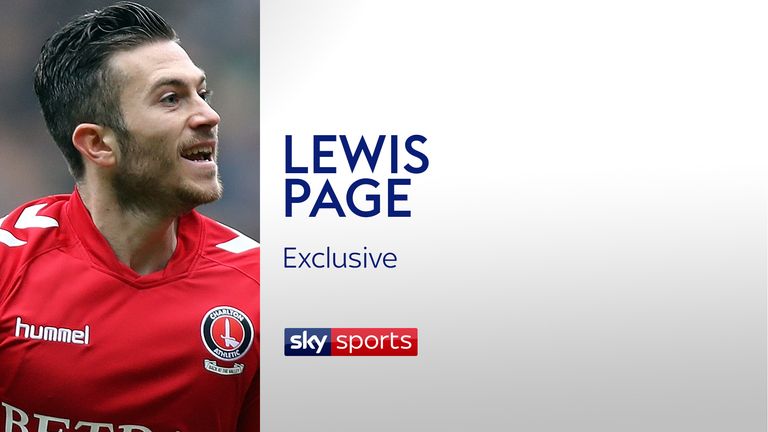 Lewis Page discusses his return from injury hell with Charlton, winning Sky Bet League One Goal of the Month and playing under Lee Bowyer.
Lewis Page felt like he couldn`t catch a break.
It looked like 364 injury-blighted days had finally come to an end when he was named in the starting line-up for Charlton`s trip to Blackpool last month. But within 25 minutes he had been forced off when a freak collision with Nathan Delfouneso left him with concussion.
We came back on the coach from Blackpool away, which is a long journey, and I was there thinking, `maybe being at Charlton just isn`t for me`, he told Sky Sports. It seemed like every time I was playing I`d get injured.
But I`ve played a few full games now and I`m feeling good. It feels like things have turned around.
They did turn around extremely quickly. Page`s next lay-off would last just 11 days and within three minutes of his next start he was on the scoresheet with a first senior goal that would win him the Sky Bet League One Goal of the Month award for March.
I didn`t even think about the fact it was my first professional goal until one of the boys said it to me afterwards, said Page. It was always going to have to be a long-range shot because I`m a left-back!
It had been almost a year of working in the gym, so to come back with that goal it was like saying thank you to the people who had been there for me in that time. My family who had supported me throughout my injuries were also there watching and it was great to score in front of them.
There is a lot of isolation when you`re a footballer out injured, hours that are spent alone in the gym rather than out on the training field or in the dressing room.
Page`s biggest problem came down to the fact it was a succession of issues that kept him out, rather than just one injury with a fixed return date that he could target and focus upon.
It felt like every time I was on my way back there was another setback, he said. There were three or four during the year, I`d get close to returning and then I`d end up back at stage one and I`d have to get back to the gym again to start all my rehab.
It was tough because I didn`t see the boys a lot, they were out training and I wasn`t really there or in the dressing room with them. Some new players arrived in the summer and I couldn`t really get to know them either. I was on my own a lot. But the physios and coaches here were great and they really helped me through it.
But what was his secret for getting through the year?
I`d always make sure on a Saturday night I`d go and do something with my family and girlfriend, just so that I had something to look forward to at the end of the week, he revealed.
I was on a strict diet because you can put on weight so easily when you`re not playing, but I`d still make sure I`d have a treat or a drink or something, just to break up the week in the gym.
In the time it took Page to recover from concussion, Charlton had changed managers. Karl Robinson, the boss who signed him, moved on to Oxford and Lee Bowyer had taken caretaker charge.
It would have been understandable for such a rapid managerial change to leave Page feeling uneasy, but he has started four of Bowyer`s six games in charge so far and is clearly a big part of their push to finish in the play-offs. Charlton are currently eighth in the table, two points off the top six with four games left to play.
Bowyer had always been really good with me so I was happy when he took over and he gave me the opportunity straight away, said Page. He`s given me a good amount of playing time so hopefully I can repay him. The goal was a nice start.
We`ve played six, won three and drawn one so it`s not too bad. Hopefully we can kick on now and get ourselves to the play-offs. We`ll have to win most of our games but we know we can beat anyone on our day.
Whatever happens now though, Page is just relieved to be involved in the chase on the pitch and not watching on from the confines of the gym.
Staying fit is all I can do and if I`m getting game time I`m happy, he said. After being out for so long it`s nice to just be playing again.